The massively popular role-playing game World of Warcraft (WoW) will give millions of Chinese gamers a tearful farewell as a result of a disagreement between US producer Blizzard and its local partner NetEase.
There aren't many popular titles from outside the country available to players in the severely constrained Chinese gaming industry. Popular Blizzard franchises like Warcraft and Overwatch have succeeded, but due to a dispute between the parties, they are now being shut down.
A bittersweet farewell
When it comes to video game laws, China has some of the tightest. Foreign businesses looking to enter the sizable Chinese market must locate a local partner who would publish their games. Recently, the government has been picky about approving new video game licenses.
WoW is a massively multiplayer online role-playing game based in a fantasy medieval setting that gained enormous popularity across the world, especially in the 2000s. The deep and addicting nature of the game allows for hundreds of hours of playtime.
Since 2008, Blizzard's games have been accessible in China thanks to a partnership with NetEase. According to local legislation, international developers must collaborate with Chinese businesses in order to access the market.

However, after 14 years and millions of gamers in China, the two companies declared in November that negotiations to extend their operating contract had been unsuccessful. As a result, WoW's Chinese servers got shut down in January.
Nearly all of the Blizzard games obtainable in China will no longer be accessible to Chinese gamers due to the license's expiration. After January 23, access will no longer be available to World of Warcraft, Hearthstone, Warcraft III: Reforged, Overwatch 2, the StarCraft series, Diablo 3, and The Heroes of the Storm.
The co-developed Diablo Immortal by NetEase game is governed by a distinct license arrangement. Even when Blizzard stops supporting the other games, users may still access the game.
The agreements with NetEase were scheduled to expire in January 2023, and according to Blizzard, no new arrangement has been reached with NetEase "that is compatible with Blizzard's operational values and promises to players and workers."
The ugly debate turns public
In a devastating statement about the break-up, Simon Zhu, head of global investment at NetEase, claimed to have spent "10,000 hours" playing the games.
"One day, when what has happened behind the scene could be told, developers and gamers will have a whole new level of understanding of how much damage a jerk can make," he wrote on LinkedIn.
Earlier in January, NetEase turned down a six-month extension request, calling the request "commercially irrational" and accused Blizzard of "seeking a divorce but yet remaining connected."
According to NetEase, the license agreement's expiry won't significantly affect the business's financial performance. In addition, NetEase stated that the deal's net income contribution and net revenue comprise "low single digits" of the company's overall income and sales in 2021 and 2022.
A World of Warcraft mobile game that had been in development for three years was canceled by Blizzard and NetEase. According to reports, a disagreement over the game's licensing conditions led to its cancellation.

According to Reuters news agency, which cited a Blizzard insider, NetEase wanted structural changes that would affect the US company's control over its intellectual property (IP).
Throughout the 14-year arrangement, NetEase stated that "all usage and licensing of Blizzard's IP were done in line with contract conditions and with Blizzard's authorization and approval."
A NetEase spokesperson told Sky News: "We want to clarify that we have never tried to take ownership of IP from Activision Blizzard – it is an unfounded allegation."
The manner they had intended to go on working with Activision Blizzard "would have been no different from how other firms cooperate in our industry to license and manage online games," they continued.
The initial 2008 agreement between the firms was previously extended to 2019.
The country's player base and the company's intention in continuing to produce games for the Chinese market were recognized by Blizzard's president, Mike Ybarra.
"We're immensely grateful for the passion our Chinese community has shown throughout the nearly 20 years we've been bringing our games to China through NetEase and other partners," Ybarra said. "Their enthusiasm and creativity inspire us, and we are looking for alternatives to bring our games back to players in the future."
In a statement of its own, NetEase said that there were "substantial disparities on essential criteria" and made mention of safeguarding Chinese players' "data and assets."
"We have put in a great deal of effort and tried with our utmost sincerity to negotiate with Activision Blizzard so that we could continue our collaboration and serve the many dedicated players in China," NetEase CEO William Ding explains.
"We are honored to have had the privilege of serving our gamers over the past 14 years and have shared many precious moments with them during that time. We will continue our promise to serve our players well until the last minute. We will make sure our players' data and assets are well protected in all of our games."
The monument that portrays a Gorehowl axe was torn down on Wednesday while NetEase streamed the event to its Naraka Bladepoint channel, according to Chinese esports broadcaster Alan Gai and publications like VGC.
The incident was also recorded by the Chinese TikTok channel ChaikingNDS, who posted footage of it online. The video showed participants receiving "Blizzard Green Tea" drinks as a reward for their work; the name of the tea appears to be a play on the slur "Green Tea Bitch," which first appeared on Chinese social media. The term has been used to refer to people who first come off as sweet and innocent but are subsequently shown to be deceitful and manipulative.
With acts like these, it is evident that NetEase believes Blizzard has harmed them. Additionally, the animosity between the two businesses as a whole gives the impression that they are engaged in a contentious divorce rather than breaking their business links.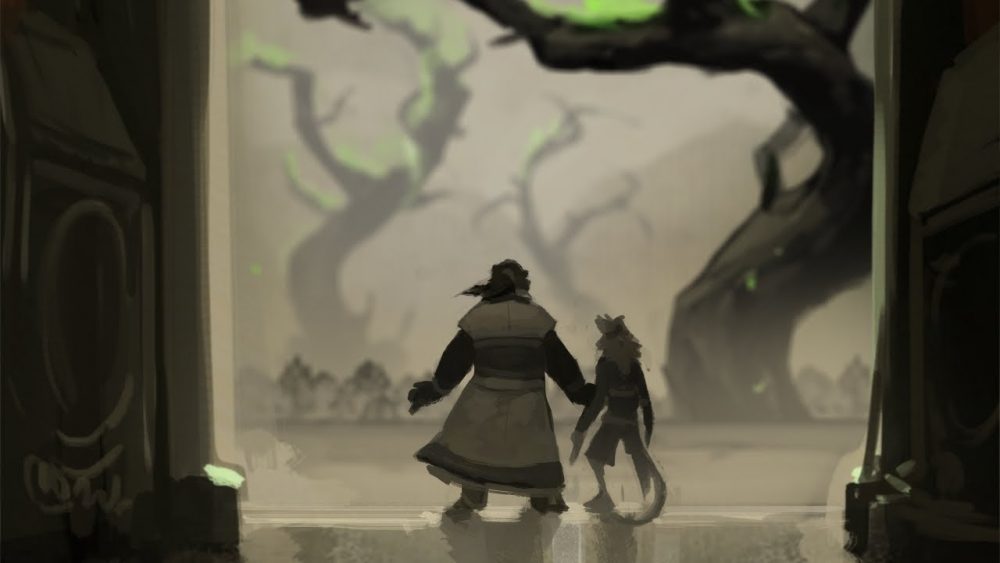 The past is trapped in ice and is awaiting the future
Blizzard took the uncommon step of letting their Chinese Warcraft players to download their characters and progress, which for some may span thousands upon thousands of hours, prior to the agreement expiring on Monday.
Blizzard introduced the "Player Data Archive" function on January 18, 2023, enabling users to download and locally save their game data. This is known among players as the "electronic urn." Less than 200 megabytes may make up the stored file, but to each player, it represents endless late hours and a burning youth.
Unfortunately, the issue remained despite players' concerns and suggestions that the two organizations keep cooperating. The suspension of Blizzard games was formally announced by NetEase on January 23, 2023. The phrase "disconnected server" will still be present this time.
Many gamers believe that the two corporations are like divorcing parents as a result of the termination. Even if they assert that they made the correct choice, they never gave the thousands of gamers a thought as they focused only on making money from the start to the finish.
Blizzard may once more locate a representative in mainland China, even if it takes months, years, or even longer. With numerous handheld games at its disposal, NetEase is content with its revenues. But who would love those who don't care about the commercial conflict and only care about the game? In the end, of course, it was the players who got rekt the most. As always.
What if?
Unfortunately, we cannot determine which firm committed the error or which company is correct from a distance (both probably made a mistake in communication and should not have been allowed to escalate to this point).
Therefore, there isn't much we can say about how the business and communication strategies may have been improved.
There are certain things that would have been handled differently if they had been Web3 games or at the very least had NFTs as a supporting technology.
In this instance, a backup of the player's character has been created, which they may use to perhaps return to after having spent in many cases hundreds of hours playing, gaining experience, and living their whole "life." On Reddit, you may read horror stories about failed or corrupted saves, however these adventures must already be over. This is obviously a bad situation that is difficult to fix because the user is severely hurt.
You wouldn't need to use questionable saves if your in-game items, such as your weapons, armor, valuables, treasures, money, and even your level and experience points, could all be NFTs.
Why?
Because each thing would be distinct, impossible to fake, and useable at any moment by its owner thanks to blockchain technology.
In gaming, customization is crucial. The idea that players enjoy inhabiting their hero's skin is the foundation of contemporary video games.
How then can NFTs utilize this?
By acquiring a playable NFT piece of gear. A coat, a pair of shorts, or a hat are examples of uncommon and distinctive things that allow the player's character to adopt their sense of style.
Again, this is commonplace today, but in a game, even if a player owns an item, they are restricted in what they can do with it. In an NFT game, however, that object may be sold again, listed on an NFT marketplace, or have other uses—for example, a Nike sneaker can grant entrance to a real-world event. By using NFT drops, NFT game makers may energize a community around their products.
Accessories are just as important as clothing. Players may personalize their weapons and armor in games like Call of Duty, and Ubisoft just released its own NFT called Ubisoft Quartz that lets players in Ghost Recon: Breakpoint to own their equipment.
But what if players desire more?
About AMG DAO
AMG is a decentralized autonomous organization, bridging the gap between players and web3 game developers, bringin the next billion users into the metaverse.
AMG acquires non-fungible tokens (NFTs) used in blockchain-based games and acts as a trusted party advocating for games in the metaverse, thus bringing more people in.
We are leveraging strong partnerships with games developers and Yield Guild Games to launch our organization to the forefront of the Central/Eastern European gaming market.
AMG DAO has been building a game focused crypto wallet, guild management and other tools to keep contributing to the ecosystem, in order to aid the creation of games with sustainable economies.
AMG DAO Social Media Links: