Who among dedicated gamers and crypto enthusiasts doesn't know Ready Player One? Many may have loved its world, some may have feared its dystopian vision, but we can all agree that it certainly brought huge technological innovations and a lot of exciting things to technology lovers.
In recent years, more and more experiments and innovations have looked to this work as a cornerstone and an example to follow. However, until now -perhaps fortunately – humanity has not yet come close to the reality of what we see there. However, according to recently released concept art, Apple seems to be starting to solve the puzzle and connect the dots to bring us the future – right into our homes!

"You don't live in the real world… You're like me. You live inside this illusion."
Let's see what we have learned about this product over the past months:
Many stories and rumors concerning Apple's virtual reality (VR) and augmented reality (AR) headsets and glasses have surfaced over the past couple of years. However, it appears that the business is also working on an ambitious Mixed Reality (MR) headset that might compete with Microsoft's $3,500 HoloLens 2. This headgear has an excellent hardware portfolio.

According to a thorough investigation by The Information, Apple is developing a Mixed Reality headgear with more than a dozen cameras for monitoring head and hand movements as well as taking pictures of the surroundings. Comparatively, the Microsoft HoloLens has seven cameras in total, including two IR cameras, two IR cameras, and a 1-megapixel ToF depth sensor.

The potential inclusion of 8K monitors in Apple's reported Mixed Reality headgear is another amazing feature. On the other side, Microsoft's product has a 2K panel. The headgear will have cutting-edge eye-tracking technology, according to the article, which quotes a person "with direct knowledge of the device."
The highest quality display currently available may be seen in Apple's mixed reality headset.
The largest pixel-dense screen on a commercially accessible consumer product that belongs to the wearable class would now be an 8K display. To prevent using all the system resources to drive such a high-resolution display, Apple apparently has a solution at its disposal.
"Apple has been developing technology that makes use of eye tracking to completely depict only the portions of the display that the user is looking at for years. That would enable the headgear to display images of poorer quality in the user's peripheral vision and lessen the device's CPU requirements, the article continues.
The price of Apple's Mixed Reality headset is apparently being considered around $3,000, which is $500 less than what Microsoft charges for its own gear. In terms of the design, a preliminary drawing based on a prototype made by The Information depicts a curving display encircled by mesh fabric and a removable headband that looks to be influenced by the style of Apple Watch bands.
The target market for Apple's Mixed Reality headset is said to include those who want to increase productivity through remote collaboration, acquire new skills through interactive techniques, and visualize designs using 3D tools, among other things. It goes without saying that everything here sounds like a product targeted for business users, much like the Microsoft HoloLens 2 headgear.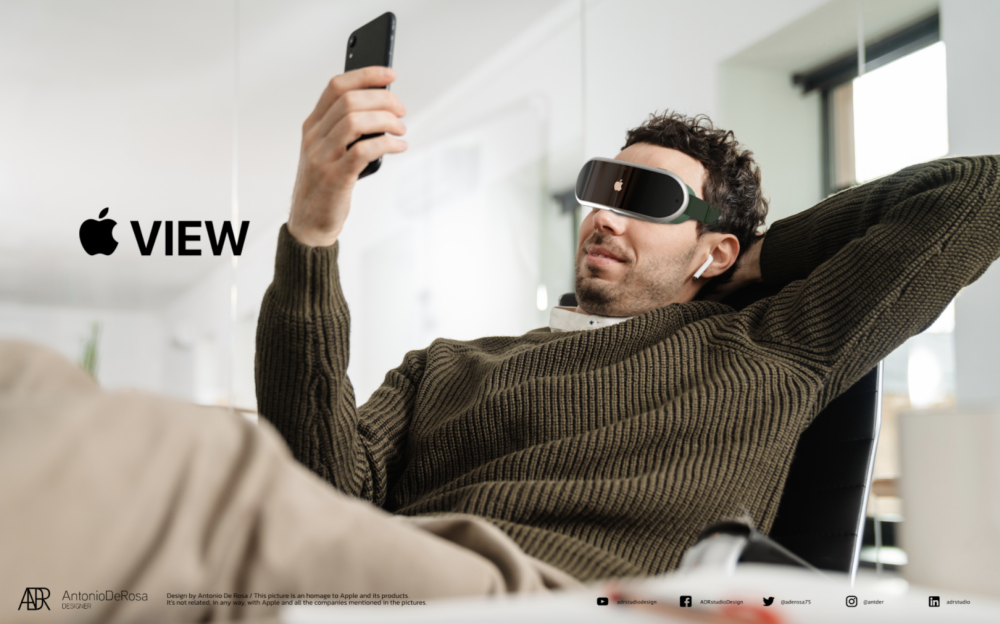 "For a bunch of hairless apes, we've actually managed to invent some pretty incredible things."
The first information on Apple's impending expensive Mixed Reality device surfaced online earlier this month. The Information's article also revealed information on the gear, including 8K displays, cutting-edge eye-tracking technology, and an estimated $3000 pricing. The article also included a preliminary illustration of the headset's potential design. Artist Antonia De Rosa has now given it the concept render treatment and given the device the name Apple View.
The renderings made by De Rosa depict a headset with an Apple logo in the center, a curved display on the front, and several camera lenses arranged around the sides. 'Over a dozen cameras' would be included in Apple's Mixed Reality headset, according to the leaked information, but the concept-based images don't show that many camera lenses on the curved front profile.

A glance inside reveals an eye cover made of a mesh-like fabric attachment that appears to be modeled after the AirPods Max headphones' earcups. Each of the two individual displays is said to deliver a class-leading 8K resolution. Although it has a flat profile on the Mixed Reality headset idea, the headband also resembles Apple's expensive over-the-ear headphones quite a bit.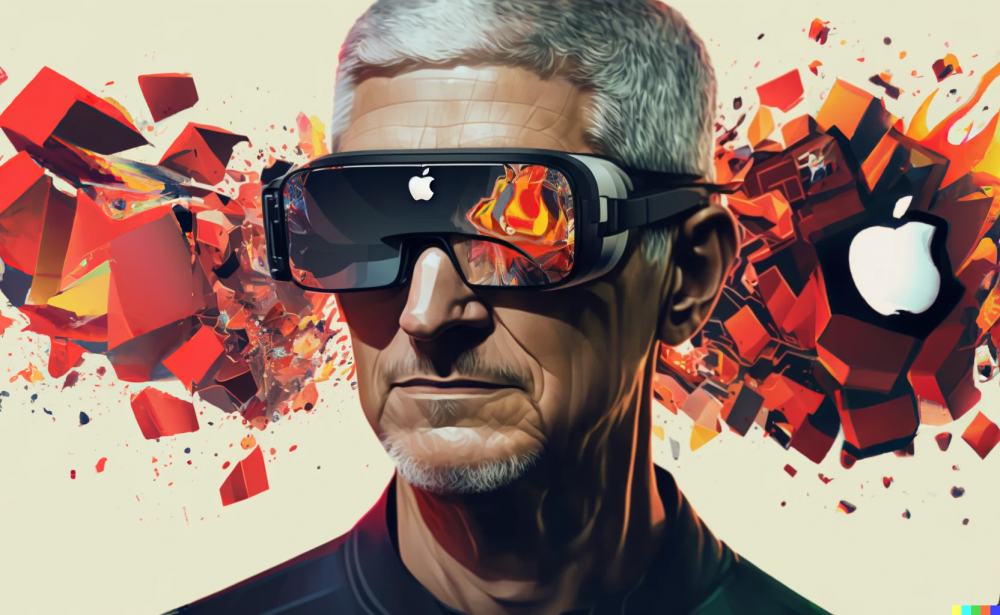 Is Cook taking over for Zuckerberg with the matter of Apple and the Metaverse?
Apple is about to enter the XR headset business, and CEO Tim Cook is starting to sound a lot like Mark Zuckerberg.
Apple's XR headset's market debut will probably be delayed. Tim Cook's stance on VR and AR, which is really extremely good, is unrelated to this. In a GQ magazine profile, he discusses his opinions on immersive media.
"If you think about the technology behind augmented reality, just to take one side of the AR/VR piece, the idea that you could overlay the real world with things from the virtual world could greatly improve people's connection and communication"
This vision for VR and AR is quite similar to Mark Zuckerberg's. He sees the Metaverse as a social experience that has the potential to radically enhance social interaction, together with the technology that support it. The article that is linked offers a sneak peek of the technologies that Meta has in store for the foreseeable future.
"There is this environment that may be even better than just the real world"
This mindset wasn't always there in the Apple CEO. "We always thought that glasses were not a smart move, from a point of view that people would not really want to wear them," said Cook. "We always predicted it would fail, and to date, it has."
It will probably take some time before an AR headset designed for daily usage is released. With its planned XR-Headset, Apple is reportedly also counting on the possibility that mixed reality headsets would act as a first step towards achieving this objective.
Cook's opinion on augmented reality headsets as technological tools has, in any event, evolved recently. Cook thinks that digital cooperation in physical space is the future – even without using the word Metaverse – just like Mark Zuckerberg, who continues to support the notion of a metaverse despite several failures with Meta.
"It could empower people to achieve things they couldn't achieve before. We might be able to collaborate on something much easier if we were sitting here brainstorming about it and all of a sudden we could pull up something digitally and both see it and begin to collaborate on it and create with it. And so it's the idea that there is this environment that may be even better than just the real world—to overlay the virtual world on top of it might be an even better world. And so this is exciting. If it could accelerate creativity, if it could just help you do things that you do all day long and you didn't really think about doing them in a different way."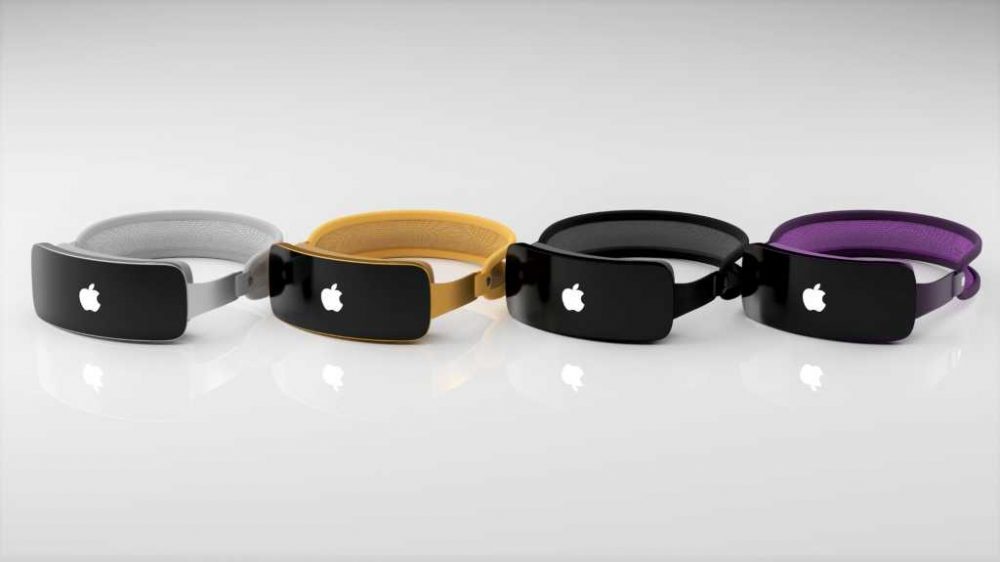 Apple mixed reality VR/AR headset release date rumors
According to the bulk of current speculations, the Apple VR/AR headset is expected to be unveiled this year, and the release date is starting to become more clear. In an effort to overcome hardware and software concerns, Apple will unveil its headgear on June 5 at its WWDC 2023 event, according to Mark Gurman of Bloomberg. According to a recent rumor, bulk production is still on target for a WWDC debut and the headgear is at the "delivery stage" of the supply chain.
The Apple AR/VR headset is reportedly debuting despite misgivings from the Apple design team that the product is not yet ready for distribution, according to The Financial Times. Apparently, CEO Tim Cook and COO Jeff Williams disregarded the designers' requests for a lighter-weight design. Despite widespread interest in AR/VR technology, according to additional reporting from the New York Times, a number of those working on the project aren't persuaded it's the best course of action for Apple.

It's important to note that analyst Ming-Chi Kuo has predicted that Apple may put off mass production of the headset by 1-2 months, citing among other things a lack of "iPhone moment excitement." The predicted high price tag of $3,000 is one among them, along with "the economic downturn, compromises on some hardware specifications for mass production (such as weight), and the readiness of the ecosystem and applications."
Apple appears to be lowering expectations, even if it doesn't delay mass production. According to a recent source, the headset's first-year shipment is now only expected to total 100,000 units. Additionally, it reduces lifetime shipments to only 300,000 devices, considerably below Apple's original target of 3 million sales.
Even so, this might not have an impact on the headset's presentation at WWDC, which would be a venue for a preview of the product before its availability later in the year.
Unexpectedly, there are already reports about the next-generation Apple VR/AR headsets, with Ming-Chi Kuo speculating that the second-generation headset would come in high-end and low-end variants around 2025. Before we give any credence to such reports, we'd like to wait and examine the first-generation headset.
The Apple VR/AR mixed reality headgear is reportedly intended to be a forerunner of Apple Glass. According to Ming-Chi Kuo, the AR lenses are intended to provide a "optical see-through AR experience." However, Apple is apparently postponing the project because of technological difficulties, so Apple Glasses could not be available for a while.
According to what we've heard, Apple Glass is made to appear and function like a regular pair of light glasses. We're talking about eyewear that can project data, maybe even pictures, onto the lenses.
The Apple VR/AR mixed reality headset is anticipated to perform similarly to a standard VR headset but with additional capabilities enabled by a variety of external cameras and sensors.
Apple's VR and mixed reality headset will be able to blend real-world settings into a virtual area and enable body tracking as a result. Additionally, the Apple VR headset could have a see-through feature that can give an augmented reality experience. As a result, it resembles the Meta Quest Pro more than the VR-exclusive Meta Quest 2.
Apple might not be hopping on the "metaverse" train, unlike the Meta Quest Pro. The Apple gear, according to Mark Gurman, will be made for quick excursions into virtual reality. Apple allegedly deemed the metaverse "off limits" in this regard. The mixed reality headset will allow users to communicate, watch material, and play games, but it won't be something you wear all day or serve as a substitute for reality.
Mixed reality is the core component of the Apple Reality Pro headset. The headgear will include external cameras, which are now being used to test functions like hand-tracking and gesture control, said Mark Gurman. One aspect of this is the potential for using a virtual keyboard to type in the air.
The headset's suspected Continuity features, which were somewhat hinted in a recent patent filing, may also benefit greatly from the hand-tracking and gesture control. In accordance with the patent application, Continuity and Handoff will enable users to utilize the VR/AR headset to transmit music, answer emails while they are in the air, and more by simply staring at a speaker.
Recent rumors say that gaming and entertainment will be two of the headset's main attractions, contrary to an earlier story that claimed Apple wouldn't prioritize games for its AR/VR headset.
Gurman offered a summary of potential Apple Reality Pro features in April, highlighting the device's focus on gaming, entertainment, and collaboration. Apple has reportedly created iOS applications for the headgear that work quite similarly to their iPad equivalents. So anticipate the adaptation of both established tools like the Freeform collaboration software for virtual reality as well as new ones like FaceTime, Maps, Mail, and others.
A reality dial was also on this list of features, as shown in this amazing Apple VR/AR headset render. It is said that this dial would make it simple for users to move between virtual reality and augmented reality. The action button, which is present on the Apple Watch Ultra and is said to be included on the iPhone 15 Pro, is also depicted in the 3D render. What particular functionality this action button will open is currently unknown.
As if that weren't enough, according to a recent story from The Information, users of the Apple VR/AR headset will be able to develop their own apps without the need for coding skills. According to reports, this function will work with Siri and let users scan physical things with the headset to turn them into digital assets. Although they will undoubtedly need to clear Apple's rigorous approval procedure, user-created applications will also be permitted to debut on the app store.
It will be difficult to fully determine who this VR/AR headset is for until we receive a preview straight from Apple. The entertainment, teamwork, and gaming elements mentioned in more recent sources show consumers are a part of Apple's intentions, despite early reports that stated it was a tool for developers and a speculated price tag intended for a small audience.
If so, there are a number of aspects that Apple will need to get right with the Apple Reality Pro:
Comfort over time: The issue with the majority of VR headsets is that they're not designed for continuous usage. Generally, discomfort worsens after approximately 30 minutes. Of course, the longer you can continue, the more comfy the headset is from the beginning.
Apple can undoubtedly make sure its mixed reality headgear is as comfortable as possible if it can build the AirPods Pro such that you can forget you're wearing them.
Strong battery life: At the moment, independent headset batteries don't last very long. Depending on what you do, the Oculus Quest 2 only lasts two to three hours. At the very least, we want Apple's VR and mixed reality headset to have as much battery life; however, we would want more.
An emphasis on fitness: The Apple headset may revolutionize the fitness industry thanks to potential integration with Apple Fitness Plus and the Apple Watch. During your workouts, you might utilize the gadget to track your progress as you adhere to the instructions of a personal trainer.
Proper AR: We want to see some proper AR capabilities if Apple decides to launch its wearable augmented reality attempts with a mixed reality headset. Apple should at the very least take all reasonable steps to ensure that any see-through AR capability is as realistic as possible, even if users will always be aware that the headset is in place. That indicates a decent field of view, no discernible latency, and high image quality.
No gimmicks: If the mixed reality headset is indeed a developer gadget that is being made available to the public, Apple should at least ensure that there is some benefit to owning one. Release the headset only when absolutely necessary, especially if it is truly that pricey. Give consumers a compelling incentive to purchase one outside the branding.
As you can see, there are still a lot of questions about Apple's product. However, we can be sure that many people are looking forward to its release and to make it part of our everyday lives. We can already guess that this technological innovation will be of such a scale that it will open the doors of everyday life to futuristic objects.
And whether all this will lead to utopia or dystopia? Let this last quote answer for me:
"I know the future is scary at times. But there's just no escaping it."
About AMG DAO
AMG is a decentralized autonomous organization, bridging the gap between players and web3 game developers, bringing the next billion users into the metaverse.
AMG acquires non-fungible tokens (NFTs) used in blockchain-based games and acts as a trusted party advocating for games in the metaverse, thus bringing more people in.
We are leveraging strong partnerships with games developers and Yield Guild Games to launch our organization to the forefront of the Central/Eastern European gaming market.
AMG DAO has been building a game-focused crypto wallet, guild management, and other tools to keep contributing to the ecosystem, in order to aid the creation of games with sustainable economies.
AMG DAO Social Media Links: